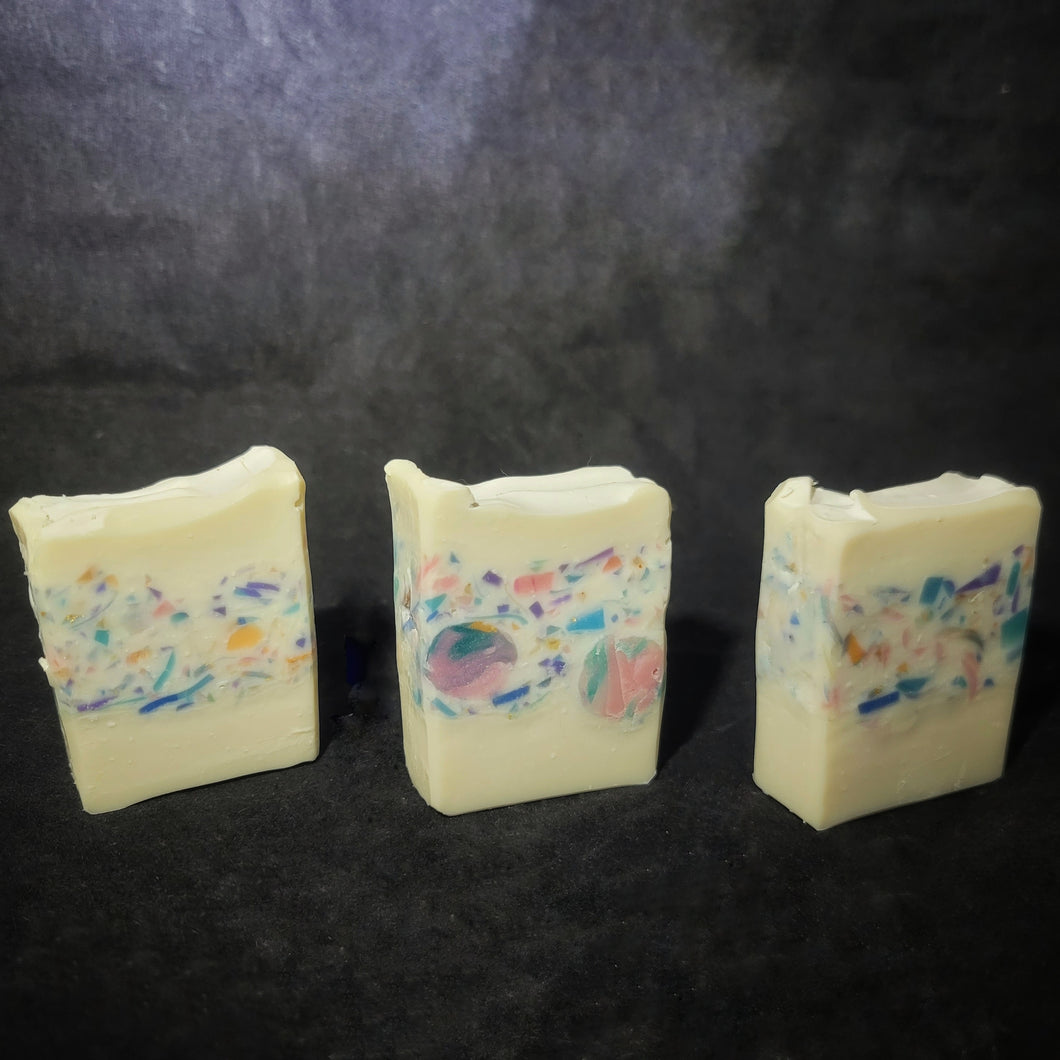 Morenci Mine | Artisan Soap
Shea & Cocoa Butters with Apricot Kernel Oil
The 5 C's of Arizona's economy are Copper, Cattle, Cotton, Citrus and Climate. We focused this fun soap on the Copper of that is processed from the Morenci mine. 
Freeport-McMoRan's mining operation began in 1872 and transitioned into open-pit mining in 1937. Nearly 1 billion pounds of copper are taken from the ground each year!
In addition to copper mining, the Morenci mine produces around 6 million pounds of molybdenum each year.  Molybdenum is a silvery-white metal that is ductile and highly resistant to corrosion. It has one of the highest melting points of all pure elements  (only tantalum and tungsten have higher melting points). This element is a micronutrient that is essential for life. Your body uses molybdenum to process proteins and genetic material like DNA!
For this soap, we added individual pieces of soap dough to sit against a lovely pure white background. Morenci Mine soap also features protective cocoa and shea butters, along with the rich, ultra-moisturizing Apricot Kernel oil. 
The fragrance is mysterious and ethereal. The scent of night-blooming flowers in ancient woods is complemented by Spanish moss and garden herbs. A touch of musk completes this blend. 
We are also happy to include this soap in any of our gift kits. 
Ingredients
distilled water | saponified oils of olea europaea (olive) fruit |  cocos nucifera (coconut)* |  elaeis guineensis (palm)** | prunus armeniaca (apricot) kernel* | theobroma cacao (cocoa) seed butter | butyrospermum parkii (shea) butter* | ricinus (castor) communis seed | kaolin clay | premium fragrance | premium mica
*Organic
**RSPO Sustainably Sourced Palm Oil (RSPO)
Please note: 
All soaps are handmade in small batches with pure, natural, high quality ingredients so the color and look of this soap varies slightly from batch to batch.
These bars of soap are hand cut and weigh approx. 4.5 - 5 ozs
Product may differ slightly in appearance and color between each batch and/or bar.
For educational purposes only. This information has not been evaluated by the Food and Drug Administration. This information is not intended to diagnose, treat, cure, or prevent any disease.