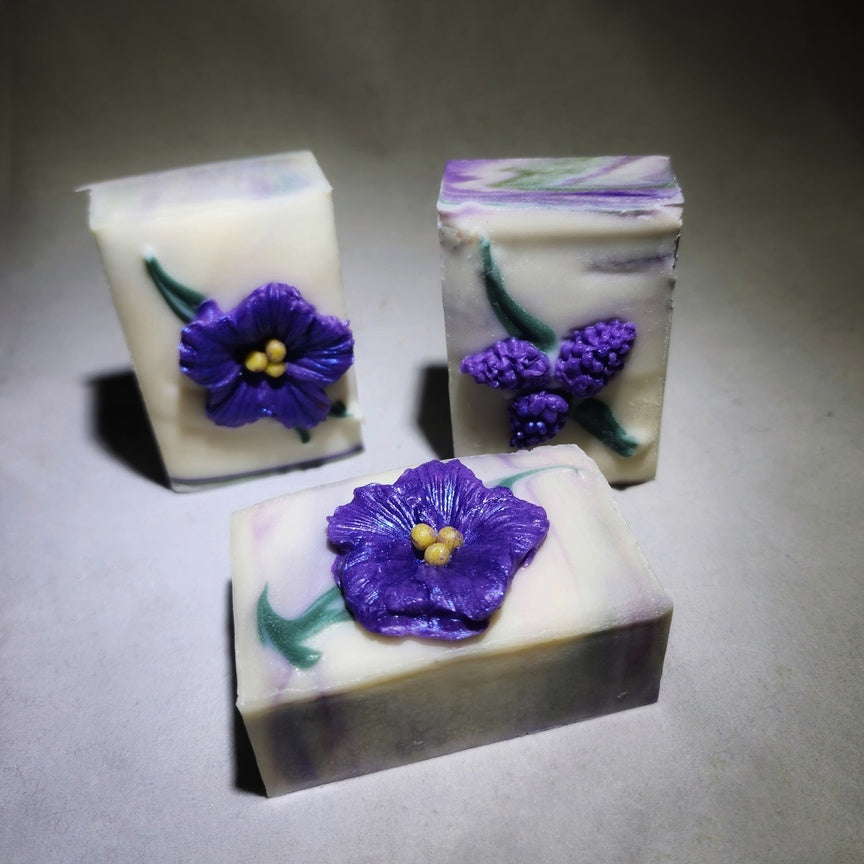 Hibiscus Flower | Artisan Soap
Shea and Cocoa Butter + Apricot Kernel
The Hibiscus flower is a stunningly beautiful bloom that captivates the senses with its vibrant colors and delightful fragrance.  Hibiscus flowers are known for their large, trumpet-shaped blossoms and are found in a wide range of colors, including red, pink, purple, yellow, orange, and white.

One of the most enchanting aspects of the Hibiscus flower is its captivating scent. The fragrance of the Hibiscus is often described as sweet, exotic, and intoxicating. When you encounter a blooming Hibiscus, its aroma permeates the air, instantly transporting you to a tropical paradise.

The Hibiscus flower is often associated with relaxation and tranquility. It has a calming effect on the mind and can evoke feelings of serenity and peace. Its soothing aroma can create a sense of harmony and balance, making it a popular choice for scented candles, perfumes, and bath products.
This delicate fragrance oil has notes of grapefruit, bergamot, tea leaf, jasmine, peach, lily, musk, amber and balsam.  
At the heart of this soap is shea and cocoa butters, two superbly moisturizing and emollient ingredients known for their remarkable hydrating properties. These butters help to lock in moisture, promoting long-lasting hydration and preventing dryness. Its rich, creamy consistency creates a luscious lather that envelops your skin in a soothing embrace, delivering intense nourishment. 
Whether you encounter the Hibiscus flower in a tropical garden, a bouquet, or a scented product, its captivating fragrance is sure to leave a lasting impression. The sweet, exotic scent of the Hibiscus flower has the power to transport you to distant lands, awaken your senses, and evoke a sense of beauty and tranquility.
You can also have this soap added to any of our gift kits. Email or message me for details! 
Ingredients
distilled water | saponified oils of olea europaea (olive) fruit  | elaeis guineensis (palm)** |  cocos nucifera (coconut) | butyrospermum parkii (shea) | theobroma cacao l. (cocoa) seed | prunus armeniaca (apricot) kernel  | ricinus (castor) communis seed  | premium fragrance | premium mica colorants | kaolin clay
*Organic
**RSPO Sustainably Sourced Palm Oil (RSPO)
Please note: 
All soaps are handmade in small batches with pure, natural, high quality ingredients so the color and look of this soap varies slightly from batch to batch.
These bars of soap are hand cut and weigh approx. 3.5 - 4 ozs
Product may differ slightly in appearance and color between each batch and/or bar.
For educational purposes only. This information has not been evaluated by the Food and Drug Administration. This information is not intended to diagnose, treat, cure, or prevent any disease.