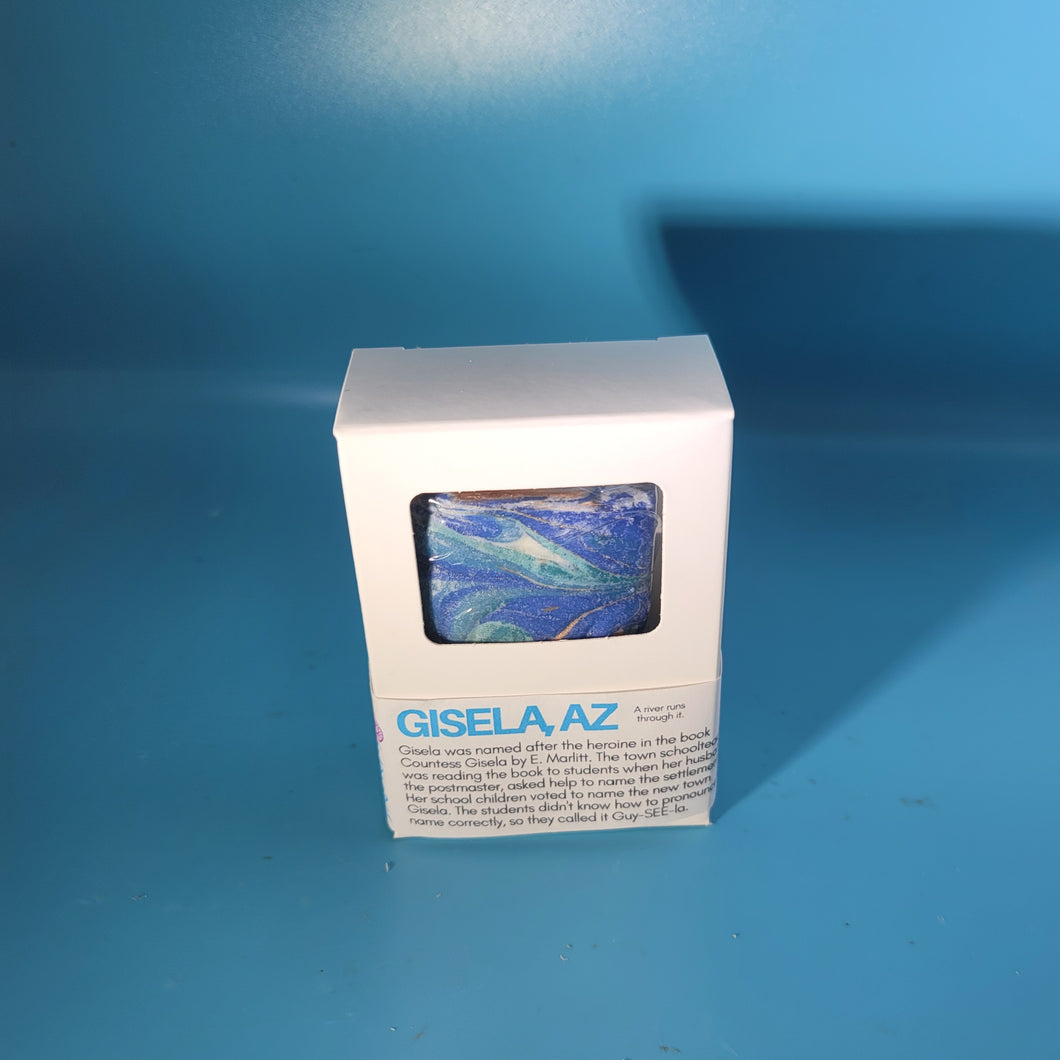 Gisela, AZ | Artisan Soap
Shea Butter & Apricot Kernel Oil 
Gisela was named after the heroine in the book Countess Gisela by E. Marlitt.
The town schoolteacher was reading the book to students when her husband, the postmaster, asked to help name the settlement. Her school children voted to name the new town Gisela, after the main character in the novel they were reading.
Because neither the students or teacher knew how to pronounce the name correctly, they called it Guy-SEE-la.
Gisela, Arizona is located on the banks of Tonto Creek and represents a small vestige of our Old West. Despite being small (in both population and area), this little town is an important part of Gila County's history. 
After the end of the Civil War in 1865, settlers made a new home for themselves in the west by founding this small community. However, their lives became involved in some of the most reckless and bloody experiences in the annals of Arizona. Raids from Apaches and outlaws left this small town a historic ghost town, with many stories to tell, after only ten years. 
Ancestors of the first settlers from the "Planting of the Colonies" program by Mormon Church President Brigham Young, still live there today. 


Ingredients
distilled water | saponified oils of olea europaea (olive) fruit  | prunus armeniaca (apricot) kernel oil | elaeis guineensis (palm)** |  cocos nucifera (coconut) | mangifera indica (mango) seed butter |  ricinus (castor) communis seed  | premium fragrance | premium mica colorants | kaolin clay | juglans regia (walnut) 
*Organic
**RSPO Sustainably Sourced Palm Oil (RSPO)
Please note: 
All soaps are handmade in small batches with pure, natural, high quality ingredients so the color and look of this soap varies slightly from batch to batch.
These bars of soap are hand cut and weigh approx. 3.5 - 4 ozs
Product may differ slightly in appearance and color between each batch and/or bar.
For educational purposes only. This information has not been evaluated by the Food and Drug Administration. This information is not intended to diagnose, treat, cure, or prevent any disease.