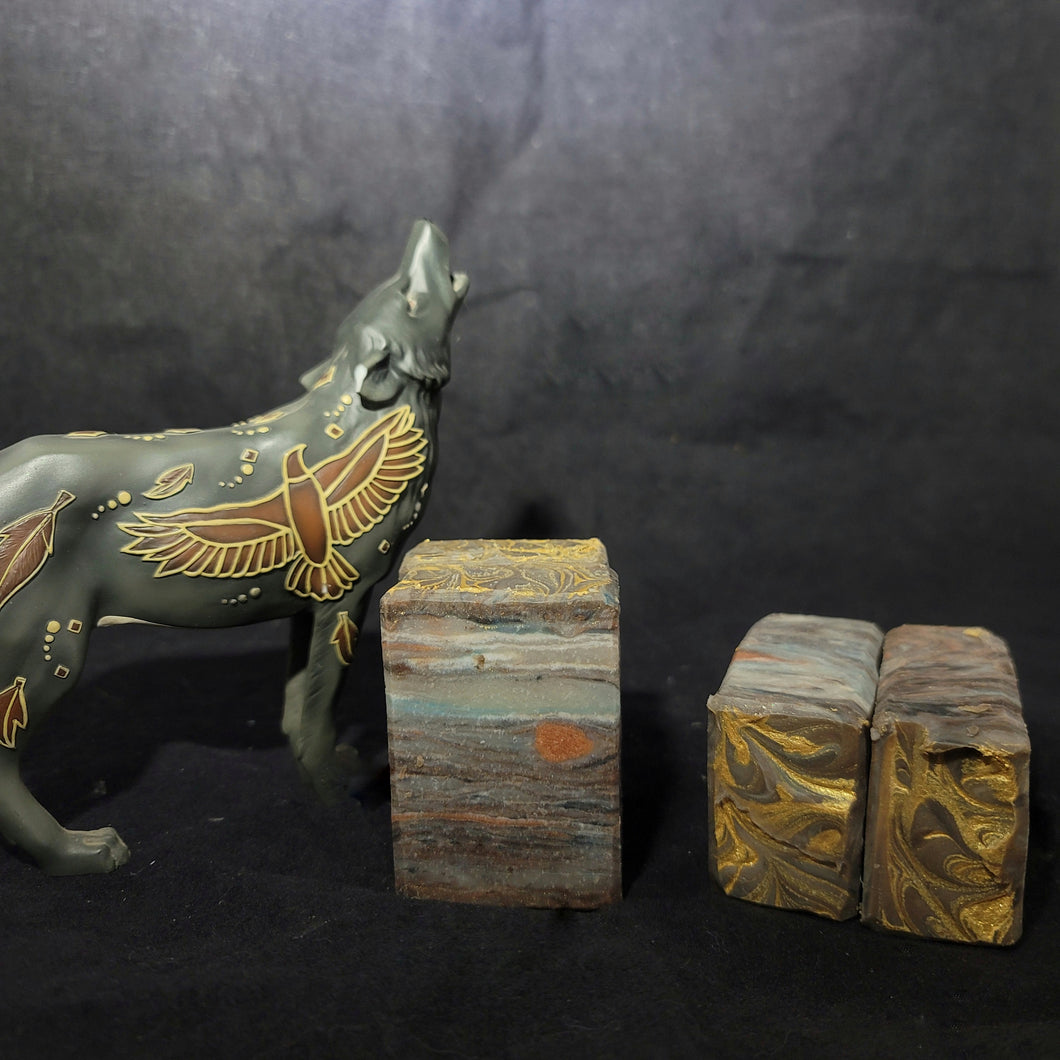 AZ Coyote | Artisan Soap
Shea & Cocoa Butters with Apricot Kernel Oil
Coyotes are Arizona's most common predator. Teir vocalizations consist of howls, yelps, yips and barks.  They are easily my favorite Arizona mammal! 
Coyotes mate for life, but while they live in family groups, they do most of their hunting alone and at night. These clever animals are opportunists, feeding mainly on small mammals, bird eggs, and acorns, mesquite and palo Verde beans, as well as juniper and Manzanita berries. 
They've earned their right to their title of "Trickster". These mischievous animals are expert survivalists and capable of adapting to nearly any situation. 
They also play an important role in every Native American tribe in Arizona. For example, Coyote is the tutelary spirit of "Coyoteway", one of the Navajo curing ceremonies. The ceremony is intended to restore the patient's harmonious relationship with Coyote and the world, and to bring about a return to good health.
The fragrance features top notes of ripe fig, caramelized sugar, and a touch of almond come through right away, while deep brown sugar makes up the heart of this fragrance. Dark musk and amber in the base reinforce the richness of this enticing fall scent. 
We are also happy to include this soap in any of our gift kits. 
Ingredients
distilled water | saponified oils of olea europaea (olive) fruit |  cocos nucifera (coconut)* |  elaeis guineensis (palm)** | prunus armeniaca (apricot) kernel* | theobroma cacao (cocoa) seed butter | butyrospermum parkii (shea) butter* | ricinus (castor) communis seed | kaolin clay | premium fragrance | premium mica
*Organic
**RSPO Sustainably Sourced Palm Oil (RSPO)
Please note: 
All soaps are handmade in small batches with pure, natural, high quality ingredients so the color and look of this soap varies slightly from batch to batch.
These bars of soap are hand cut and weigh approx. 4.5 - 5 ozs
Product may differ slightly in appearance and color between each batch and/or bar.
For educational purposes only. This information has not been evaluated by the Food and Drug Administration. This information is not intended to diagnose, treat, cure, or prevent any disease.