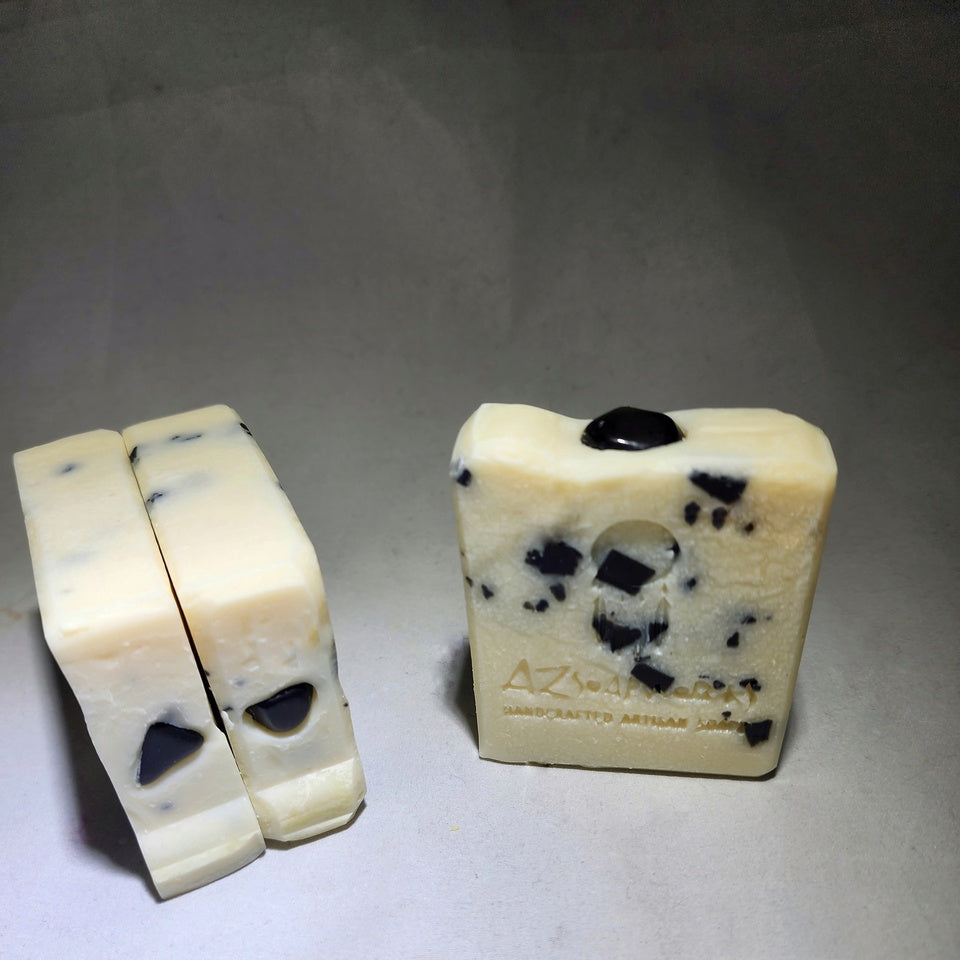 Apache Tears | Artisan Soap
Shea and Cocoa Butter + Apricot Kernel
According to the legend, a group of Apache warriors found themselves vastly outnumbered by the U.S. cavalry and cornered atop a cliff in the Superstition Mountains. Rather than surrendering, the warriors chose to leap to their deaths, preferring to die with honor rather than be captured or killed by their enemies.
As the Apache women and children grieved for their fallen warriors, their tears transformed into dark, obsidian-like stones, which came to be known as Apache Tears.
We wanted to focus this soap on the legend of the Apache Tears and provide our customers with an opportunity to own one for themselves. Each slice of soap is topped with an actual Apache Tear crystal stone. 
These stones are regarded as powerful amulets of protection and healing. These teardrop-shaped stones are believed to carry the sorrow, resilience, and strength of the Apache people, and they have become a symbol of healing, protection, and remembrance in the region. 
According to some beliefs, Apache Tear Stones have the ability to absorb negative energy and protect the wearer from psychic attacks, emotional trauma, and grief. They are considered to be stones of comfort and solace, providing strength and support during times of sorrow or loss.
This soap blends the best of our natural scents, which include notes of bergamot, orange, sparkling cassis, deep sea water, hyacinth, blue lilies, lemon zest, patchouli, and seaweed. The result is a deeply alluring, complex symphony that is perfect for evening or morning.  
At the heart of this soap is shea and cocoa butters, two superbly moisturizing and emollient ingredients known for their remarkable hydrating properties. These butters help to lock in moisture, promoting long-lasting hydration and preventing dryness. Its rich, creamy consistency creates a luscious lather that envelops your skin in a soothing embrace, delivering intense nourishment. 

You can also have this soap added to any of our gift kits. Email or message me for details! 
Ingredients
distilled water | saponified oils of olea europaea (olive) fruit  | elaeis guineensis (palm)** |  cocos nucifera (coconut) | butyrospermum parkii (shea) | theobroma cacao l. (cocoa) seed | prunus armeniaca (apricot) kernel  | ricinus (castor) communis seed  | premium fragrance | premium mica colorants | kaolin clay
*Organic
**RSPO Sustainably Sourced Palm Oil (RSPO)
Please note: 
All soaps are handmade in small batches with pure, natural, high quality ingredients so the color and look of this soap varies slightly from batch to batch.
These bars of soap are hand cut and weigh approx. 3.5 - 4 ozs
Product may differ slightly in appearance and color between each batch and/or bar.
For educational purposes only. This information has not been evaluated by the Food and Drug Administration. This information is not intended to diagnose, treat, cure, or prevent any disease.